02/03/2021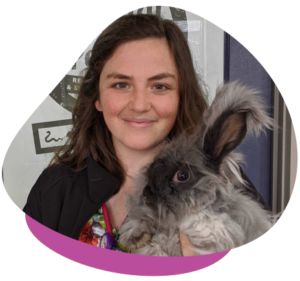 Meet Gretel, Veterinary Nurse
Gretel got her first pet which was a rabbit when she was three years old, and bunnies have always been a big part of her life ever since. When she first began her pet ownership journey with bunnies, she realised it was difficult to get the right health and welfare information. Many of the general practice vets she visited weren't very confident with rabbit medicine and this is what drove her to find every book, article, magazine and website she could to learn about rabbit healthcare. This self-learning eventually led Gretel to veterinary nursing. She began her career in 2016 at an exotic's veterinary clinic in Sydney and worked there until making the move to Melbourne to join the UPV Peninsula team in mid-2020, where she quickly become the clinic's #1 bunny snuggler.
Outside of work, Gretel enjoys gardening and is especially interested in planting and learning about rabbit safe plants. She is a fan of music and dabbles in bunny fur wool crafting, which includes felting and sinning.
Gretel is also the proud owner of two feline friends, Arlo and Scaredy and has some feathered friends too, a budgie called Budgie Boy, a Cockatiel called Muriel and three King Quail's called Salvador, Maria and Louisa.
Qualifications:
Certificate 4 Veterinary Nursing