Birds of All Feathers Flock to This Exotic Bird Vet in Perth and Melbourne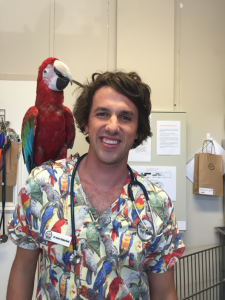 Birds make beautiful pets but to keep that beauty alive and well takes delicate care, this is where our dedicated team of avian veterinarians comes in. Our flying friends come in all shapes and sizes, colours and breeds – The Unusual Pet Vets cater to each with the utmost of care. So if you are looking for a skilled poultry vet, exotic bird vet, chicken vet, parrot vet or just an avian veterinarian with a wealth of knowledge and experience, The Unusual Pet Vets are here. We are exotic bird vets in Perth and Melbourne, and we have vast expertise in treating a diverse range of birds including:
All parrot species including budgies, eclectus parrots, weiros (cockatiels), cockatoos, corellas, galahs, lovebirds, caiques, rosellas, macaws, conures, alexandrines, indian ring necks, king parrots, princess parrots, lorikeets and many others
Canaries, finches and other passerines
Waterbirds like ducks and geese
Chickens of all shapes and sizes
Like us, these beautiful creatures get ill and will require attention from a trained avian vet to foster a speedy recovery. You might have a pet cockatoo or perhaps a pet bird that is slightly more unusual than the norm. Regardless of the type, each bird is best treated by a trusted bird veterinarian with in-depth knowledge of avian medicine.
Why Choose Us for Your Pet Bird Care in Melbourne or Perth?
The Unusual Pet Vets has a highly skilled team that keeps up to date with the best practices in nutrition, ideal bird home maintenance, care and treatment. Our team of avian veterinarians provides the latest in quality care and can help with:
General health check-ups including dietary or husbandry discussions
Wing clips
Beak trims
DNA and surgical sexing
Soft tissue and orthopaedic surgery
Behaviour analysis and discussion
Blood and faecal analysis
Advanced diagnostic imaging (x-rays, ultrasounds and CT)
Based in Perth and Melbourne, we offer a wide range of services to ensure that your bird enjoys a long, healthy life.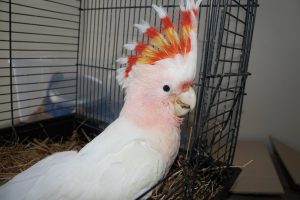 Our veterinarians have all kept a range of bird species (including parrots, chickens, galahs and more), and have developed expert knowledge over many years. Our longstanding passion for avian pets has fueled our pursuit of raising the avian veterinary service standards in Perth and Melbourne.
Maybe you've found yourself asking, "Is there an avian vet near me?" Fortunately, we have two clinics in Perth, north and south of the river, as well as one in Melbourne, all with top of the range equipment and an avian pet hospital to provide the care your birds need.
Similarly, if you are looking for food or accessories for your birds, browse our online shop, we stock a wide range of products, making shopping for your bird easy and convenient.
What Other Reasons Should You Choose The Unusual Pet Vets?
Experienced, highly-qualified team with a wealth of knowledge and expertise in dealing with all types birds.
Two clinics, both with a high-tech laboratory and the latest equipment, including onsite surgical and anaesthesia facilities.
In addition to medical care for your pets, we also offer professional advice, fact and care sheets, training courses and documentation to ensure that your bird remains healthy and is well cared for.
We know how much you care for your flying friends because we do too. Make sure their health is in the hands of an avian vet you can trust to care for them in the best way possible. Contact us today to book an appointment or to make an enquiry.
---
WHERE CAN YOU FIND US?
Perth Customers
BALCATTA CLINIC:
59 Erindale Road
Balcatta, Western Australia 6021
MURDOCH CLINIC:
The Animal Hospital at Murdoch University
90 South Street
Murdoch, Western Australia 6150
---