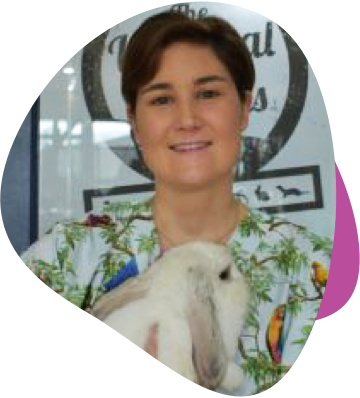 19/09/2018
Meet Dr Michelle Sutherland
BVM&S, BSc (Hons I), MANZCVS (Avian Health), Cert AVP (ZooMed), Dip ABVP (Avian Practice), MRCVS
Michelle originally hails from the UK and moved to Australia in 2012. She has completed a residency training programme in Avian Medicine and Surgery, during which she studied with bird specialists in Australia and the USA. Michelle is currently working towards obtaining specialist status in Avian Medicine through the Australian and New Zealand College of Veterinary Scientists and the American Board of Veterinary Practitioners. By examination, Michelle has achieved Membership of the Australian and New Zealand College of Veterinary Scientists in Avian Health, and is one of only a few vets in Australia to hold a Certificate in Advanced Veterinary Practice in Zoological Medicine, obtained through the Royal College of Veterinary Surgeons, which included training in the medicine and surgery of birds, rabbits, rodents and ferrets, and reptiles. Michelle enjoys working with all kinds of exotic pets, be they feathered, furry or scaly, but has a particular soft spot for birds and small mammals. Her experience working in the UK left her with a love of bunnies that will last for life!
Before she was a vet, Michelle worked as a wildlife researcher in South Africa, Botswana, Kenya, Tanzania and the UK. She has written a number of scientific papers and is a regular contributor at veterinary conferences.
Outside of work, Michelle enjoys spending time with her husband and young daughter and can be found bushwalking, wildlife watching and enjoying the produce of the great Australian vineyards. She also plays the ukulele (badly) and is terrorised by a very cheeky cockatiel called Marmalade.
Qualifications:
BVM&S, BSc (Hons I), MANZCVS (Avian Health), Cert AVP (ZooMed), Dip ABVP (Avian Practice), MRCVS
Publications:
To view Dr Michelle's authored publications and journal articles, click here.