07/11/2019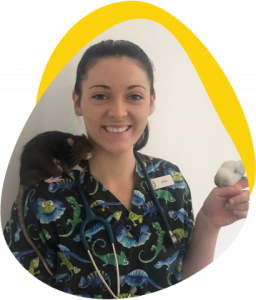 Veterinary Nurse Jayde began nursing in 2013 and worked in a small animal general practice for 12 months before transferring to Australia Zoo where she was the senior nurse for 5 years. Jayde joined the Unusual Pet Vets team in September 2019. She has extensive experience in critical and emergency care of exotic animals and wildlife and is very passionate about flora and fauna conservation.
Jayde is a pet parent to a small collection of unusual animals including two miniature dachshunds, two rats, one lovebird, one blue tongue lizard and a jungle python.
Outside of work, Jayde enjoys hiking and kayaking whilst fauna spotting. She and her husband assist local rescue organisations with wildlife rescues & rehabilitation for the South-East QLD region.