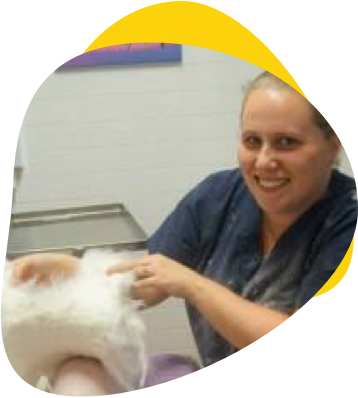 Meet Jess, Veterinary Nurse and Nurse Manager
Jess has been working in the veterinary industry since 2005, she entered the industry as a kennel hand and vet nurse assistant at an exotic only clinic while completing her Certificate III in Animal Studies at TAFE. She then went on to complete a Certificate IV in Veterinary Nursing and became a qualified veterinary nurse in 2007.
Jess says that she always loved exotic pets, having owned many rabbits, birds, fish, guinea pigs, mice and a naughty ferret over the years, along with cats and dogs too. Vet nursing was the only career path she ever wanted to pursue. Jess has only ever worked with exotic pets and she wouldn't have it any other way. She loves how unique and special all the various species are, and loves expanding her knowledge of them. Jess loves the amazing team of vets and nurses that she works with and feels very privileged to have taken of the role of nurse manager for the best group of nurses around.
It is well known amongst family and friends that Jess a little plant obsessed, especially when it comes to cactus and succulent type plants. Outside of work, Jess also loves crafting (terracotta pot painting/decorating, scrapbooking and macramé). She and her partner Dave also spend a lot of time camping and 4WDriving and have travelled all around this amazing country and her favourite trip so far was 4-week trip to the Kimberley's in 2019.
Jess enjoys spending time outdoors with her two dogs, Kora an Irish Setter and Bear a Great Dane, and taking them on adventures, either bush walking or to the beach. Sometimes her canine companions get to go on the camping trips.
In addition to Kora and Bear, Jess is also the proud pet parent to a feline friend called Pebby.
Qualifications:
Certificate IV in Veterinary Nursing, Certificate III in Animal Studies, Fraser and Girling Diploma and Advanced Programme in Veterinary Nursing of Zoological Species (Avian, Herpetology, Small Mammals and Wildlife)