30/08/2021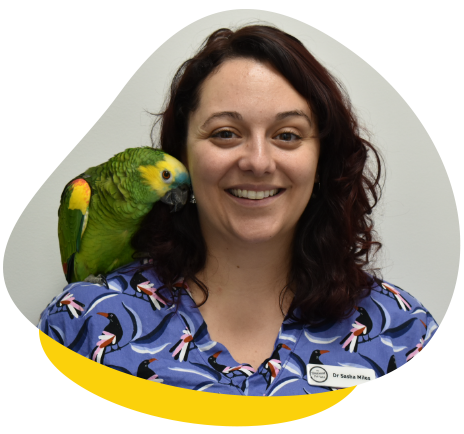 Dr Sasha Miles
BVSc (Hons) MANZCVS (Avian Health, Medicine and Surgery of Unusual Pets)
Sasha knew she wanted to be a vet from a very early age, about three years old! Her parents kindly fostered her love of animals with regular trips to local museums, parks, and zoos. She studied Veterinary Science at the University of Queensland and graduated in 2010 with honours. During her studies, she completed an externship at Taronga Zoo in Sydney, practical placements at several bird and exotic specific clinics, and went to South Africa to complete a certificate in wildlife conservation and immobilisation.
Straight from graduation, Sasha went into practice in a bird and exotic only clinic and has stayed in this specific field ever since. Her strong belief that these pets deserve the same standard of health care as other pets has encouraged her to continue her studies. In 2014 she achieved membership to the Australian and New Zealand College of Veterinary Scientists in Avian Health. More study followed and she achieved membership again with the college in 2019, this time in Medicine and Surgery of Unusual Pets.
Sasha has attended avian and exotic pet veterinary conferences in Australia and around the world. She has written a textbook chapter on Turtle Shell Repair which was published in 2018 in the book 'Reptile Medicine and Surgery in Clinical Practice.' At work, her special interests are surgery and creating a lifelong bond with pets and their owners to ensure her patients receive the best care both at home and in the clinic
Hobbies and Interests
Outside of work you will find Sasha spending time with her animal family as well as her human family and friends. A big music fan, she often spends her weekends seeing concerts. Her other hobbies include swimming, reading novels, pilates, drinking tea, and eating cheese.
Owned Pets
At home, Sasha is constantly entertained by the antics of Mia the naughty tortie cat, the clever chatter of Tiago the blue-fronted amazon parrot, and the constantly hungry Spike, a Macquarie River turtle.