Keeping your pet rabbit healthy takes more than an occasional carrot — it takes a vast amount of experience and skill. This is where we share our years of accumulated knowledge so you can feel more confident as a pet rabbit owner.
Since rabbits are prey in the natural world, their natural instinct is to hide any signs or symptoms of illness, making it crucial to recognise issues as soon as possible. Here, our growing collection of rabbit-dedicated blogs focuses heavily on illnesses to watch for, why it is so important to brush your rabbits, and a host of other topics meant to enlighten and empower you as a rabbit owner.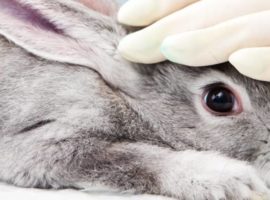 22/10/2020
Gastric Dilation (Bloat) In Rabbits
Gastric dilation (commonly known as bloat) is an acute and often life-threatening condition in rabbits that requires immediate veterinary attention. It can cause a perfectly healthy rabbit to become v...
1
2
Next