Our specialised team of experts at Unusual Pet Vets is 100% dedicated to the healthcare of your unique pets, whether they be scaly, feathered, slimy, crawly or furry.
It is our passion to get to the bottom of any ailment or issue that is affecting your beloved pet. Here, we showcase some of the most interesting patient cases such as Rogue, a juvenile lace monitor that presented with a severe case of Nutritional Secondary Hyperparathyroidism. Another of our favourite stories — perhaps because it involves two of the cutest Velvet Lop rabbits you will probably ever see! — follows Louie and Fae's treatment for bilateral ear infections.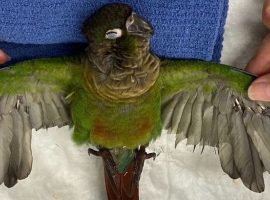 08/04/2020
Wei Wei Spreads Her New Wings
In an effort to give Wei Wei some flight again, Dr Cat performed a procedure known as imping, which involves placing new feathers into the wing. Here, you'll learn more about this procedure and see ho...