Exotic Medicine for Vet Nurses Education Night
02/14/2019
The Unusual Pet Vets Balcatta and Murdoch clinics are proudly hosting a night of educational talks by a number of our staff in Perth on April 16th 2019. A range of topics will be discussed including: - Dr James Haberfield speaking on nutrition for exotics - Dr Kelly Giles speaking on triaging exotics - Dr Maren Beeston speaking on wing and nail clipping -...
Our oldest surgical patient yet! 70 years old!
01/12/2019
Everyone please meet Herbert, a very special patient who was born in the late 1940s, making Herbert 70 years old!!He came in after an accident caused him to break his leg. After being stabilised in hospital he underwent surgery with Dr James and nurse Jess to repair his nasty fracture. The surgery went well and he is heading home to rest up. We wish Herber...
New Melbourne Clinic Now Open on the Peninsula
12/08/2018
Our new Melbourne Clinic opened in Frankston on the beautiful Mornington Peninsula at the end of August 2018. We joined with the Reptile Doctor team and Dr Hamish Baron from Sydney so have hit the ground running with lot's of unusual pets already coming through! Just like our WA clinics, the new Melbourne clinic is open 7 days a week and caters for all your un...
Now Offering Online Bookings 24/7
11/10/2018
Did you know that we now offer online bookings at all of our clinics? You can make your booking any time of the day or night, even if we are closed. This means that if you are concerned that your pet may be unwell in the middle of the night, rather than wait until we open you can just jump on to our website and book them straight in for the next morning. You c...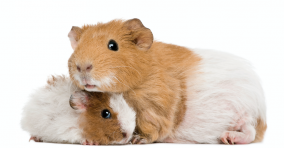 Is my Guinea Pig a boy or a girl? Guinea Pig Reproduction 101
10/16/2018
Guinea pigs are growing in popularity as pets and we are starting to see more and more of them come through our clinics. They can make fantastic pets and are full of personality, however do require more care than many people think. We get lots of questions about guinea pig reproduction and desexing so I thought I would cover some of our more frequently a...