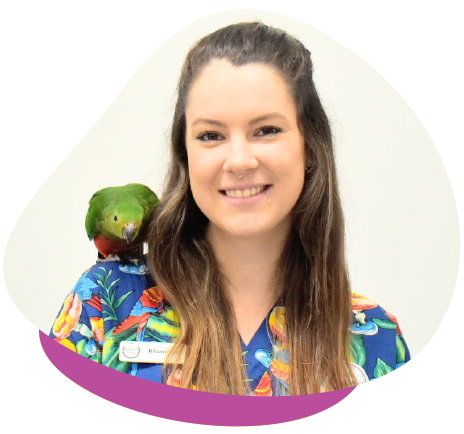 Meet Vet Nurse Rhiannan
Certificate IV in Veterinary Nursing
I was lucky enough to grow up on acreage surrounded by animals and began my time in the industry in a small family-owned clinic 5 years ago. During my time in the clinic, I've studied a Certificate IV in Veterinary Nursing while my passion for exotics has grown and I've since been dubbed the resident "bird lady". I've also completed additional training in the husbandry and nursing care of birds, possums, and reptiles through wildlife caring and continuing education. I'm also passionate about customer service and love to share a laugh with my team.
Hobbies and Interests
Outside of work, I dedicate some time to caring for wildlife. I also enjoy gardening and bushwalking.
Owned Pets
I am a proud pet parent to Immy the Border Collie X, Bruiser the Cattle Dog, Polly the King Parrot, Franklin the Lorikeet, Dusty and Jimi the Cockatiels, Opal, Wren, Zinger, and Popcorn the chickens, Mita and Nico the quails.