13/10/2020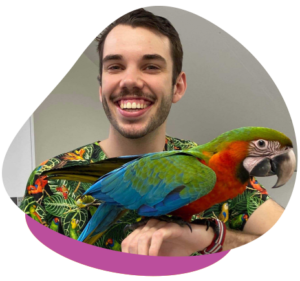 Harry graduated from the University of Queensland in 2019 with a Bachelor of Veterinary Technology where he found a passion for exotic animals and specifically birds.
Harry is a firm believer that parental interest will be translated into a passion of children, and so it was his dad's love of birds that rubbed off on him. He grew up going through his dad's bird watching books to look at the pictures. From this, Harry decided that he wanted to end up in the veterinary industry in some regard. As he learned more about birds, Harry became awe-inspiring as to what the extraordinary evolutionary pressures would be in place to allow something to fly, and the biology that developed, and as a result, has always amazed him.
Despite Harry's love for birds, he is excited about the opportunities and challenges associated with all avenues of exotic medicine.
Outside of work, Harry likes building things and working out how things work. He loves working on his car and building computers. Harry also has a keen interest in motorsports and photography. However, his biggest love in this world is snow skiing which is a rare privilege but an interest, nonetheless.
Harry has owned pets throughout his life, including a 20-year-old Cockatiel and 19-year-old Jack Russel Terrier but is on the lookout for a feathered friend to join his family unit.