07/02/2022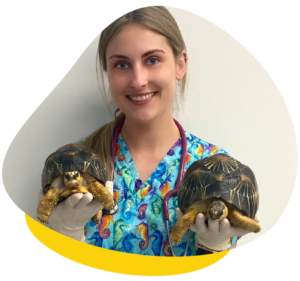 Eloise – Senior Veterinary Nurse
Cert IV in Veterinary Nursing
Having always been obsessed with animals, in particular wildlife and exotic species, it is no shock that I find myself where I am today.
I began nursing in 2013, initially in a small animal clinic. In 2014, I travelled to Africa where I volunteered at a wildlife rehabilitation sanctuary. It was there that I made the decision to relocate to South Africa to pursue my passion for wildlife. During this time, I gained valuable experience working with a large array of species, from primates and big cats to birds and reptiles.
In 2017, I began working at Australia Zoo Wildlife Hospital where I dedicated 4 years to treating and rehabilitating Australian native wildlife.
Hobbies and Interest
Outside of work I enjoy hanging out with friends, travelling, and immersing myself in nature.
Owned Pets
I am a proud pet parent to a Pomeranian named willow, two cats, and an aviary of mixed birds.