30/11/2021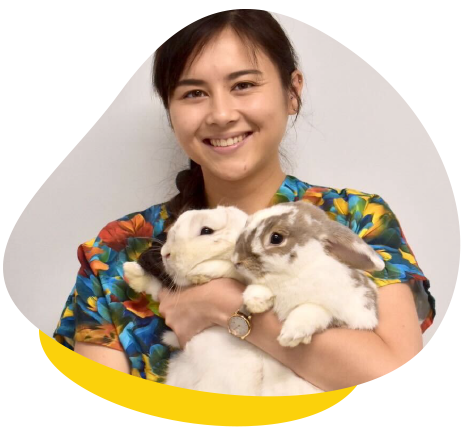 Vet Nurse Ellen
BBiomedSc (Hons)
I am a current veterinary student at the University of Melbourne. I have a special interest in rabbits and guinea pigs, but love all exotic pets!
I have a unique career background, having worked previously as a genetic counsellor at a familial cancer clinic, and before that, I formulated allergen vaccines for dogs and cats. It was more recently that I decided to pursue my passion for veterinary medicine.
I grew up in the outer suburbs of Melbourne, and have owned exotic pets throughout my life, including rabbits, guinea pigs, birds, and mice. I have a strong belief in animal adoption, and most of my pets are rescues.
Hobbies and Interests
Outside of work, I love skiing, reading, and caring for an assortment of indoor pot plants.
Owned Pet
I share my home with many pets. I have three guinea pigs, called Iggie, Willow, and Poppy. Iggie, who is now about 6, was a celebrity in her younger years when she starred in a popular calendar. I have two rabbits, Potato and Hava. When I adopted Potato, he only had three legs, but he gets along well. I also grew up with a cockatiel, who is now 16 years of age.