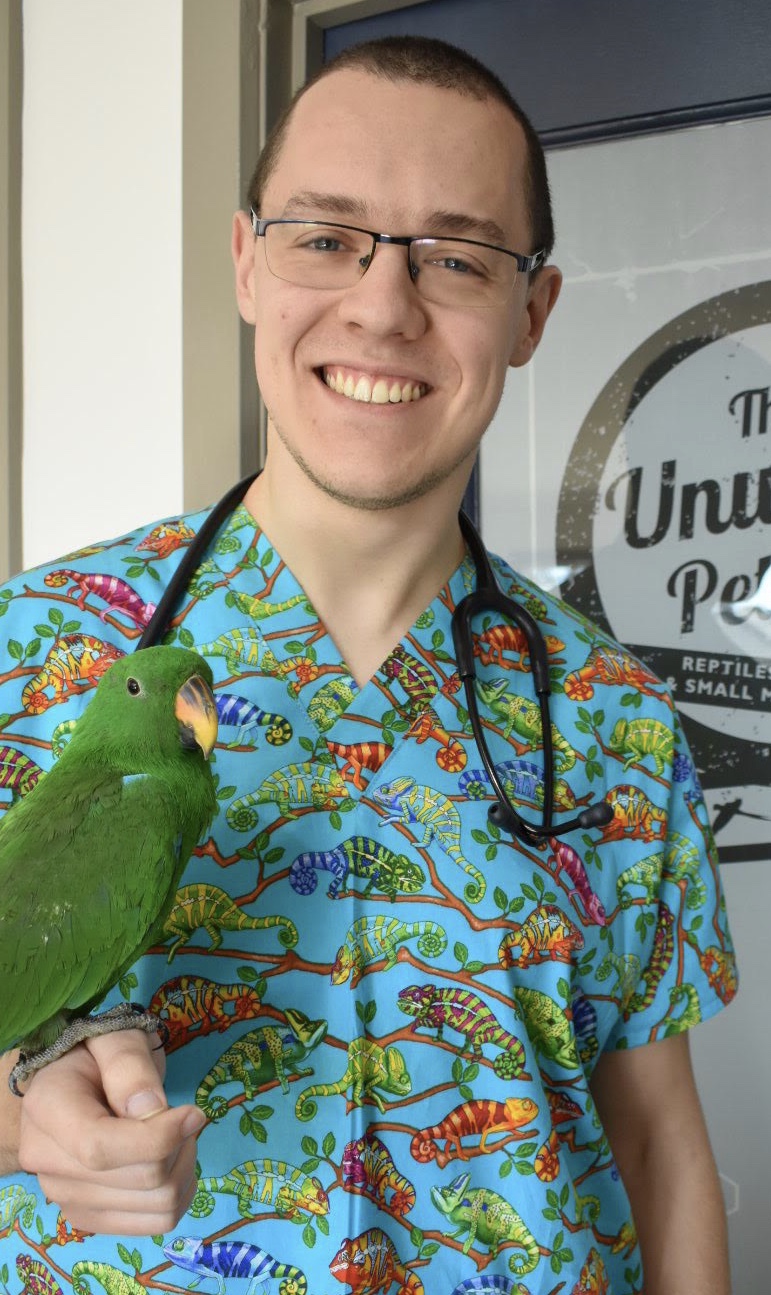 14/08/2018
Trent graduated from the University of Melbourne in 2015 with a strong passion for exotic animals, and on graduation was fortunate enough to land a position working alongside Dr Shane Simpson at the Reptile Doctor (Karingal Vet Hospital). Here he gained a wealth of experience treating a plethora of species, learning surgical procedures and accruing medical knowledge aiding the diagnosis and treatment of disease in reptiles, birds and small mammals, amongst the usual fare of dogs and cats. While Trent continues to work part time with dog and cats at the Karingal Vet Hospital, he joins The Unusual Pet Vets with the aim to provide the gold standard in veterinary care for all unusual animals – his absolute favourites!
Trent is a keen advocate of continual education and is constantly attending conferences, workshops and lectures from veterinary leaders around the world, while at the same time building his own repertoire of presentations, papers and research, to further develop his skills and offer his own knowledge to others in the veterinary community. One of his major interests is endoscopy and coelioscopy in exotic animals, and it's untapped applications in both diagnostic and surgical management of disease.
When he's not working, Trent is often busily cleaning cages and looking after his animals at home! He has a large collection of elapids, blue tongues, pythons and monitor lizards, with a particular focus on mulga snakes, taipans and arid blue tongues. In addition he has kept a wide range of birds over the years but is focussed now on breeding the larger South American parrots – a continual challenge but that's all part of the fun!
Outside of the animal world, Trent is a fanatical motorbike rider, enjoys surfing (despite the lack of skills in this department!) and is a regular gym goer and bushwalking enthusiast – however most trips to the great outdoors will be spent looking for wild reptiles or particular birds, instead of the beautiful scenery around him..