05/11/2021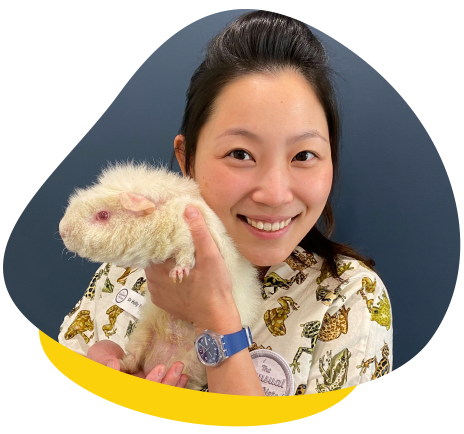 Dr Holly Yang
B. Psych, BVB, DVM
Dr Holly knew that she always wanted to work with animals since she was a child but due to some financial difficulties, could not get into vet school right away. Dr Holly worked several odd jobs as a bus driver, recruiter, and in real estate before realizing that vet was something she needed to do.
Holly started working towards her dream, and she began volunteering at a small zoo in California while working as a full-time recruiter and part-time bus driver. She loved all the different animals and the individual care they required. Holly couldn't have been happier working with the furry, feathery, and scaly animals.
Dr Holly moved back to Australia and was able to pursue her dreams of becoming a vet, gearing all of her placements at exotic clinics, zoos and wildlife hospitals. She learnt how exciting every day is working with the different species and that every day is truly a learning experience with these guys.
Hobbies and Interests
Dr Holly loves trying out new foods with friends and family, exploring WA as she considers herself new to Australia. She also plays indoor soccer and loves to travel.
Owned Pets
Dr Holly is a proud pet parent to two felines Atom and Aslan and Alfie a St Bernard/poodle/cavalier pup.
Publications
Yang, H, Ward, M. & Fawcett, A. (2019). DVM students report higher psychological distress than the Australian public, medical students, junior medical officers and practising veterinarians. Australian Veterinary Journal.