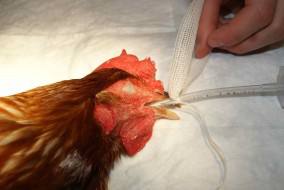 Exotic species often have a higher anaesthetic risk than dogs and cats. We minimize the risks of anesthesia as much as possible to ensure a comfortable, safe, and smooth procedure for your pet.
We have state-of-the-art anaesthetic monitoring equipment that allows us to monitor your pet's heart rate, blood pressure, respiratory rate, respiratory effort, expired carbon dioxide level, blood oxygenation level and temperature. We have specialised fluid pumps to ensure that your pet's vascular system is supported while undergoing any procedure.
In addition to the above both of our practices have specialized exotic animal ventilators that can breathe for animals as small as twenty grams! This is especially important for rabbits and reptiles as these species often go through periods of apnoea (not breathing on their own) while under anaesthesia. Our ventilator can customize both the volume of breath and length of breath to best suit the patient. There are very few practices in Australia with this technology.
To ensure that we have control of the airway, we have several sizes and shapes of specialized endotracheal tubes to fit different species, and we are able to endoscopically place ET tubes as well. We also were the first practice in Western Australia to start using advanced laryngeal masks for our rabbit patients.