What pet is curious, intelligent, playful, undeniably adorable, mischevious at times, friendly, and affectionate? A ferret of course! For the right owners, ferrets can make absolutely wonderful pets. Unfortunately, ferrets are susceptible to certain medical conditions, making it important to work with an experienced, knowledgable vet if you own one.
Here, we address a variety of topics to help you provide the best care to your ferret as possible. From enrichment activities to keep your curious, playful pet stimulated to common parasites to watch for in ferrets to proper dental care for ferrets, we aim to arm you with as much information as possible to make your furry little family member as happy and healthy as possible.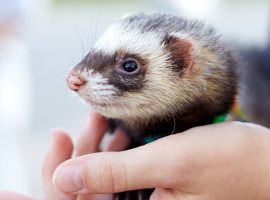 01/06/2020
Sneezing And Coughing In Ferrets
Just like people, ferrets are capable of making a range of different noises. These range from normal sounds such as 'dooks' of excitement when playing through to abnormal noises such as excessive ...
1
2
Next